Jill Kovacs
The Kovacs Story
The Family

Jill's arrival brought our family size to 5. Jill has 2 older sisters; Janice, born November 16th, 1974 in Plainfield NJ, and Jessica, born October 31st, 1982, in Toms River NJ.
---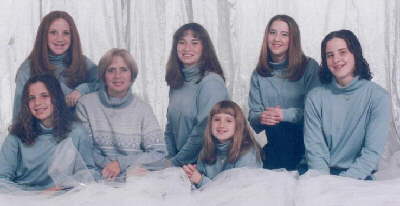 ---
Jill would soon be joined by the rest of my family -- Julie born July 7th, 1986; Jaclyn born March 9th, 1989; and Jodi born July 24th, 1990. Only Jan was born in a different area, the other 5 girls were all born at Community Hospital, Toms River, NJ.

Jill's baby years were uneventful; with the exception being that Jill was the only baby able to tolerate normal formula. All 5 of the other children required special formulas, a significant point in that Jill's formula was made with water, the other girls using as follows: Jan, having milk allergies was given goat's milk, and the rest were given ready made formula without water being added.

Jill was a happy but shy little girl, she was robust as a child and my healthiest baby. She had beautiful "bottom of her butt" length brown hair that was soft and curled at the ends. I was often complimented on her hair, and asked if I had ever cut it. I never had, and used to reply that Jill was like Crystal Gayle and I had not intention of cutting her hair, ever.




BACK
|| CONTENTS || NEXT